Book-collecting
Anisther publishing - by cls
Naissance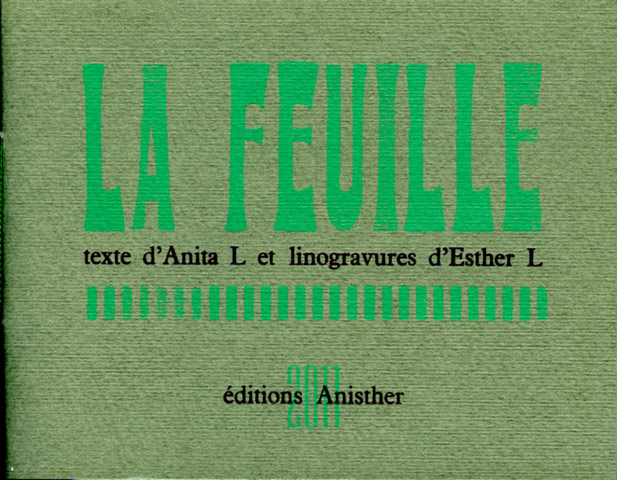 Le petit dernier de Fornax ? Non, pas du tout, le premier ouvrage des éditions Anisther codirigé par Esther L et Anita L. Un ouvrage composé et imprimé par les éditrices en typographie au plomb à 30 exemplaires, illustré de 4 linogravures originales d'Esther L qui abandonne la plume à sa sœur pour s'emparer des gouges. Un ouvrage imprimé en blanc sur papier vert bouteille.
Et Fornax n'y est pour rien ? Non, pour rien. Il n'a fait que prêter son atelier et un peu des compétences de son dirigeant, ainsi qu'ouvrir son magasin à papier aux talentueuses débutantes... rien d'autre à part ça...
Quelques exemplaires de l'ouvrage seront bientôt en vente dans la librairie de Fornax... On peut réserver dès maintenant car l'objet, qui est déjà rare, ne peut que se raréfier encore plus avec le temps. Il est difficile de parler du prix de vente, les éditrices en débattent encore entre elles.
Comments
Nobody gave a comment yet.
Be the first to do so!
Categories


Undergrowth typography


Typographical practice


Typo des rues


The picture of the day...


Tales ans short stories


Streets typography


Rural typo


Proverbs


Printing


Post-competition


Places of conviviality


My masters


Internal news


Friends


Fourneau-Fornax


External news


Editorial practice


Competition


Bookish teratology


Book-collecting


Bibliophilie


Art


Alphabet
last posts
Last comments
Archives
October 2023
S
M
T
W
T
F
S
01
02
03
04
05
06
07
08
09
10
11
12
13
14
15
16
17
18
19
20
21
22
23
24
25
26
27
28
29
30
31