Streets typography
<!execution>Execution of letters - by cls
Démolition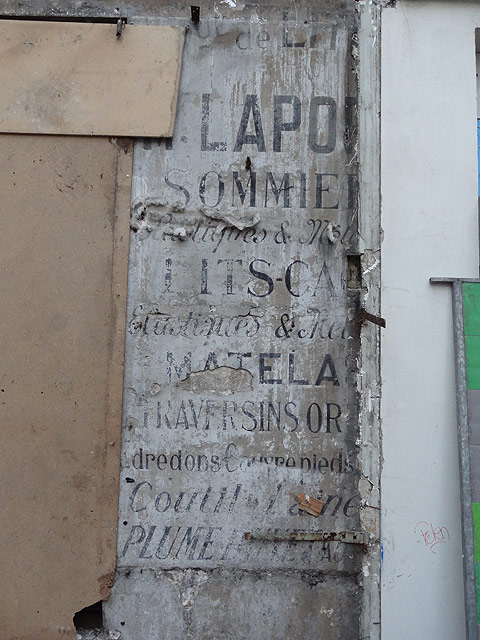 Bon nombre de démolitions de bâtiments ne sont que des occasions pour fabriquer des gravats ainsi que l'annonce de futurs bétonnages. Parfois elles révèlent de petits trésors cachés comme ici, à Paris, au 37 bis de la rue de Montreuil, cette inscription ancienne, trace d'une activité défunte du Faubourg-Saint-Antoine. Provisoirement typo des rues, cette inscription – selon toute probabilité –, à peine remise au jour, disparaîtra à nouveau et de manière définitive dans un avenir proche. Il était urgent d'en garder la trace...
Comments
Nobody gave a comment yet.
Be the first to do so!
Categories


Undergrowth typography


Typographical practice


Typo des rues


The picture of the day...


Tales ans short stories


Streets typography


Rural typo


Proverbs


Post-competition


Places of conviviality


My masters


Internal news


Friends


External news


Editorial practice


Competition


Bookish teratology


Book-collecting


Bibliophilie


Art


Alphabet
last posts
Last comments
Archives
October 2022
S
M
T
W
T
F
S
01
02
03
04
05
06
07
08
09
10
11
12
13
14
15
16
17
18
19
20
21
22
23
24
25
26
27
28
29
30
31