Internal news
<!greeting>New wishes and new display - by cls
2017, du neuf
Nouvelle année, nouveaux vœux, nouvelle carte. Routine ? Sans doute, mais l'aube d'une nouvelle année provoque l'oubli des bilans désastreux et réveille en nous l'espoir du changement positif. Espérons, donc.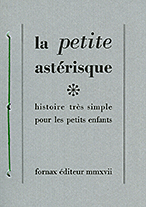 Nouvelle année, nouvelle présentation de ce site également. On y travaille depuis l'été dernier. Tout n'est pas encore fini, peaufiné, il reste encore des détails à arranger mais il faut bien se jeter à l'eau à un moment ou à un autre. Et le cap de la nouvelle année a paru un moment favorable.
Nouveaux billets dans ce blog... ne pas oublier de lire celui qui se trouve juste sous celui-ci, nouveau également.
Comments
Nobody gave a comment yet.
Be the first to do so!
Categories


Undergrowth typography


Typographical practice


Typo des rues


The picture of the day...


Tales ans short stories


Streets typography


Rural typo


Proverbs


Printing


Post-competition


Places of conviviality


My masters


Internal news


Friends


Fourneau-Fornax


External news


Editorial practice


Competition


Bookish teratology


Book-collecting


Bibliophilie


Art


Alphabet
last posts
Last comments
Archives
October 2023
S
M
T
W
T
F
S
01
02
03
04
05
06
07
08
09
10
11
12
13
14
15
16
17
18
19
20
21
22
23
24
25
26
27
28
29
30
31