General catalog
<!001>Authors

<!00>Chronological
Books of the week
<!01>Fourneau

<!02>Fornax
<!typo>Typo and around
Fourneau and Fornax

Meetings

Printings
The last one...
Raymond Callemin
Lettre
à Arthur Mallet

8 pages, format 9,7 x 20 cm.
50 exemplaires.
45 €
__________
CLS
Quasimodo
le simplet

36 pages, format 14 x 14 cm.
100 exemplaires.
10 €
__________
CLS
Un point
c'est tout

36 pages, format 14,8 x 7 cm.
100 exemplaires.
5 €

(cliquer sur les images
pour en savoir plus)
Free

Some pages of this site:

... for those who are too lazy to seek.
Visits
4985587 visitors
118 visitors online
Fornax Blog (& archives) - Streets typography
Streets typography
Typo t(h)in - by cls
Typo basse calorie

Il en est de certaines sortes typographiques comme de certaines jeunes filles : elles sont anorexiques. L'ultra minceur est alors de règle pas l'ultra plaisir visuel. On est tout de suite embarrassé face à de telles silhouettes. On n'ose pas les regarder en face tant leur état paraît maladif. Et quand bien même oserait-on, qu'on ne pourrait les voir, qu'elles disparaitraient entièrement derrière leur maigreur. Heureusement que, gêné par un tel spectacle, l'œil se fait oblique, le regard se fait en dessous. La silhouette acquiert dès lors une certaine profondeur et l'on parvient à voir, enfin...
Cette typo est bien trop mince pour être liée au plomb par l'alliage, au livre par la couverture. Son manque de poids est avant tout un manque de goût et de pertinence.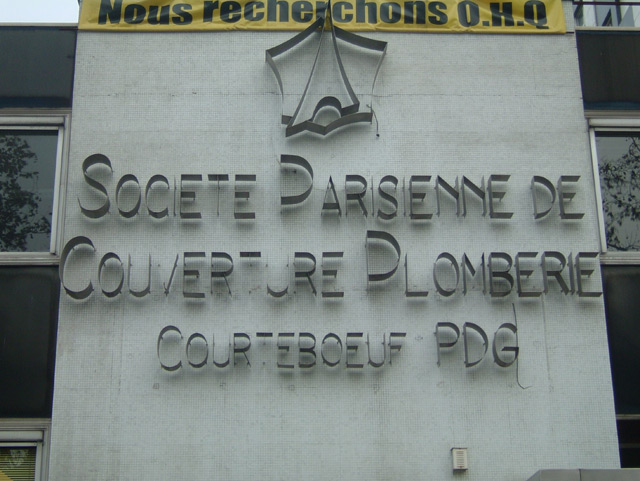 cls

P.-S. : Là-bas, on cherche des O. H. Q. bien gras ; ici, on se souvient qu'on cherchait des Q. W. Z. au début de l'année pour une carte de vœux. On les cherche encore.
Categories


Undergrowth typography


Typographical practice


The picture of the day...


Tales ans short stories


Streets typography


Rural typo


Proverbs


Post-competition


Places of conviviality


My masters


Internal news


Friends


External news


Editorial practice


Competition


Bookish teratology


Book-collecting


Art


Alphabet
last posts
Last comments
Archives
November 2020
S
M
T
W
T
F
S
01
02
03
04
05
06
07
08
09
10
11
12
13
14
15
16
17
18
19
20
21
22
23
24
25
26
27
28
29
30