General catalog
<!001>Authors

<!00>Chronological
Books of the week
<!01>Fourneau

<!02>Fornax
<!typo>Typo and around
Fourneau and Fornax

Meetings

Printings
The last one...
Raymond Callemin
Lettre
à Arthur Mallet

8 pages, format 9,7 x 20 cm.
50 exemplaires.
45 €
__________
CLS
Quasimodo
le simplet

36 pages, format 14 x 14 cm.
100 exemplaires.
10 €
__________
CLS
Un point
c'est tout

36 pages, format 14,8 x 7 cm.
100 exemplaires.
5 €

(cliquer sur les images
pour en savoir plus)
Free

Some pages of this site:

... for those who are too lazy to seek.
Visits
4972074 visitors
152 visitors online
Fornax Blog (& archives) - My masters
My masters
Chaval - by cls
L'humour sans plaine

Rencontre fortuite que celle d'aujourd'hui. On range sa bibliothèque, ou plutôt on la met en cartons parce  qu'une bibliothèque en bon état de marche sur ses rayonnages époussetés chaque jour (Eh, ho ! on a le droit de mentir un petit peu de temps en temps...) ça fait désordre pendant des travaux de maçonnerie [pense-bête : ne pas oublier ici de mettre la cédille sous le « c »]. Et voilà qu'une feuille vole en tombant par terre. La dernière de couverture d'un vieux numéro de Paris-Match. On ramasse machinalement et on regarde ce qu'on a ramassé.
Il y a de l'humour poussif...
il y a de l'humour de mauvais goût...
il y a de l'humour qui ne tient pas la durée...
il y a de l'humour dont les traits sont mous ou vulgaires...
il y a de l'humour franchouillard...
il y a de l'humour sans humour...
... et il y a Chaval.
Ce dessin a plus de quarante ans et il n'a pas perdu une once de son efficacité, il n'a pas pris une ride. Il est des jours où l'on se met à haïr des jours : le 22 janvier 1968, par exemple.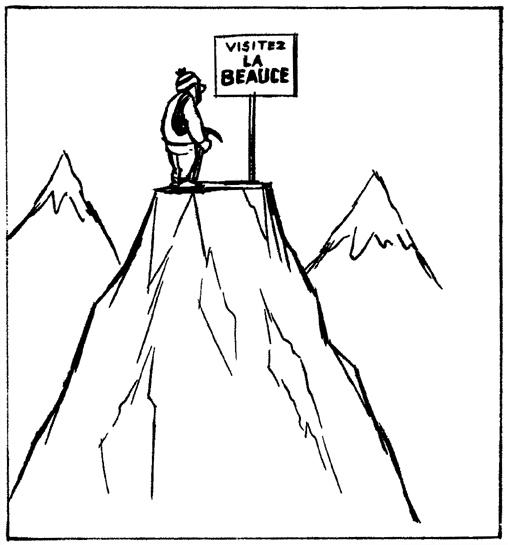 cls

Categories


Undergrowth typography


Typographical practice


The picture of the day...


Tales ans short stories


Streets typography


Rural typo


Proverbs


Post-competition


Places of conviviality


My masters


Internal news


Friends


External news


Editorial practice


Competition


Bookish teratology


Book-collecting


Art


Alphabet
last posts
Last comments
Archives
November 2020
S
M
T
W
T
F
S
01
02
03
04
05
06
07
08
09
10
11
12
13
14
15
16
17
18
19
20
21
22
23
24
25
26
27
28
29
30