General catalog
<!001>Authors

<!00>Chronological
Books of the week
<!01>Fourneau

<!02>Fornax
<!typo>Typo and around
Fourneau and Fornax

Meetings

Printings
The last one...
Raymond Callemin
Lettre
à Arthur Mallet

8 pages, format 9,7 x 20 cm.
50 exemplaires.
45 €
__________
CLS
Quasimodo
le simplet

36 pages, format 14 x 14 cm.
100 exemplaires.
10 €
__________
CLS
Un point
c'est tout

36 pages, format 14,8 x 7 cm.
100 exemplaires.
5 €

(cliquer sur les images
pour en savoir plus)
Free

Some pages of this site:

... for those who are too lazy to seek.
Visits
4618469 visitors
147 visitors online
Fornax Blog (& archives) - Streets typography
Streets typography
Butcher's shop - by cls
À la louche (et bem)


— Banco ! On marque cette boutique d'une pierre blanche.
— Banco ? Très juste mais son approche est un peu difficile quoiqu'oscillante ne trouvez-vous pas ?
— C'est qui qui cause ? Le vieux typo grognon là-bas, près du radiateur, dans l'Excoffon ?
— Peu importe. Et pour la pierre blanche, elle borne déjà.
— Je voulais simplement parler de la devanture. Elle gagne, et de loin devant ses concurrentes, le concours de la plus belle vitrine du monde. Dépouillement, clarté, esthétique, tout y est...
— ... Mouais... et l'on peut réviser sa philo — les deux langues — et son code typo — les abréviations super, promo, bif...
— Sûr ! et on joue (de porc), on se tient les côtes (d'agneau), on se tape sur les cuisses (de dinde), on s'en paye une tranche (de pâté).

[rideau (de fer)]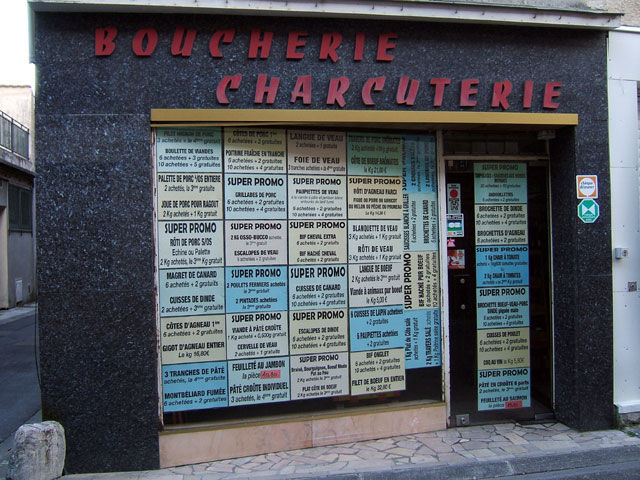 Categories


Undergrowth typography


Typographical practice


The picture of the day...


Tales ans short stories


Streets typography


Rural typo


Proverbs


Post-competition


Places of conviviality


My masters


Internal news


Friends


External news


Editorial practice


Competition


Bookish teratology


Book-collecting


Art


Alphabet
last posts
Last comments
Archives
October 2020
S
M
T
W
T
F
S
01
02
03
04
05
06
07
08
09
10
11
12
13
14
15
16
17
18
19
20
21
22
23
24
25
26
27
28
29
30
31