The picture of the day...
At the bookseller... - by cls
... en province
Quand on passe outre l'égoïsme naturel du genre humain auquel – hélas – on appartient, on peut s'accorder quelques instant à exercer une activité d'une inutilité majeure : penser aux amis. C'est ce qu'on tente maintenant. On pense à l'ami Yves qui a le tort d'être morose. On aimerait bien qu'il en revienne à ses mots roses et à ses pétillantes saillies (non, on ne parle pas ici de ses performances intimes). Alors, pour le dérider plus que ne le ferait une lecture de Derrida, on lui propose cette photo récemment prise chez un de ses confrères du Sud-Ouest.
Allez, souryves... tu ne vas pas en faire un fromage, tu vois bien que le tiroir-caisse peut être amusant.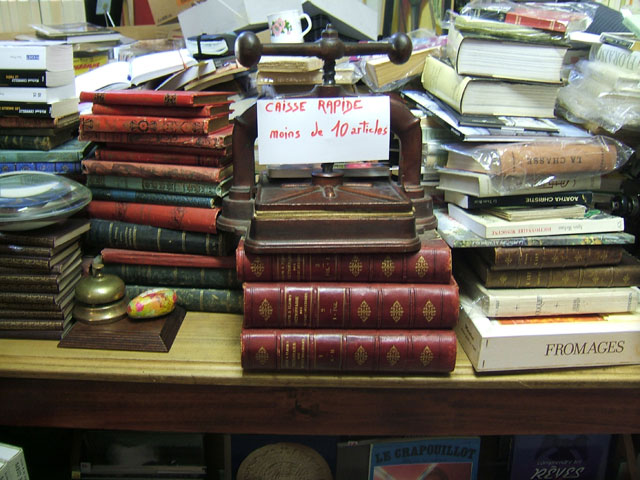 Ça se passe à Montauban, l'une des trois villes roses, avec Toulouse et Albi.
P.-S. Pour comprendre quelques allusions de ce billet,
on pouvait aller voir le blog Feuilles d'automne qui n'existe plus [révision 30/01/2021]
.
Categories


Undergrowth typography


Typographical practice


Typo des rues


The picture of the day...


Tales ans short stories


Streets typography


Rural typo


Proverbs


Post-competition


Places of conviviality


My masters


Internal news


Friends


External news


Editorial practice


Competition


Bookish teratology


Book-collecting


Bibliophilie


Art


Alphabet
last posts
Last comments
Archives
May 2022
S
M
T
W
T
F
S
01
02
03
04
05
06
07
08
09
10
11
12
13
14
15
16
17
18
19
20
21
22
23
24
25
26
27
28
29
30
31