Streets typography
<!Ironforgedletters04>Iron forged letters [4] - by cls
Urbi et Torbi...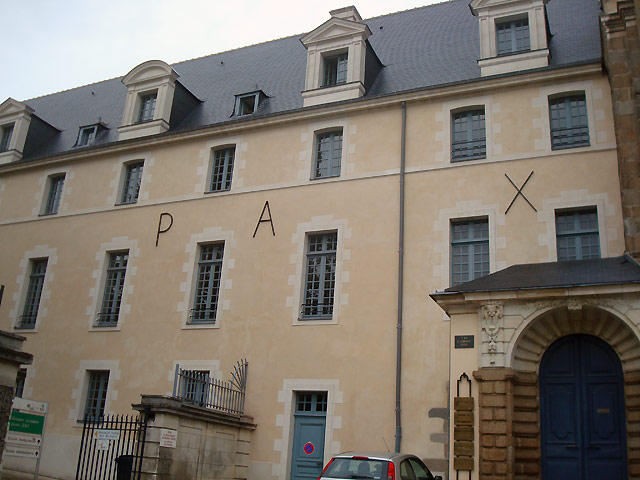 Elle ne peut qu'être romana, cette pax, puisqu'elle est fixée sur un mur de l'abbaye Saint-Melaine à Rennes. La photo est un envoi de Jacques André qui se demande, au passage, si la gouttière ne peut pas être comptée comme un « I ». Comme on n'arrive pas à se déterminer pour « oui » ou pour « non » car le fer forgé de cette descente semble s'avérer être du zinc, on va s'abstenir de tout autre commentaire.
Comments
Nobody gave a comment yet.
Be the first to do so!
Categories


Undergrowth typography


Typographical practice


Typo des rues


The picture of the day...


Tales ans short stories


Streets typography


Rural typo


Proverbs


Printing


Post-competition


Places of conviviality


My masters


Internal news


Friends


Fourneau-Fornax


External news


Editorial practice


Competition


Bookish teratology


Book-collecting


Bibliophilie


Art


Alphabet
last posts
Last comments
Archives
October 2023
S
M
T
W
T
F
S
01
02
03
04
05
06
07
08
09
10
11
12
13
14
15
16
17
18
19
20
21
22
23
24
25
26
27
28
29
30
31