Tales ans short stories
Pavement - by cls
Naufrage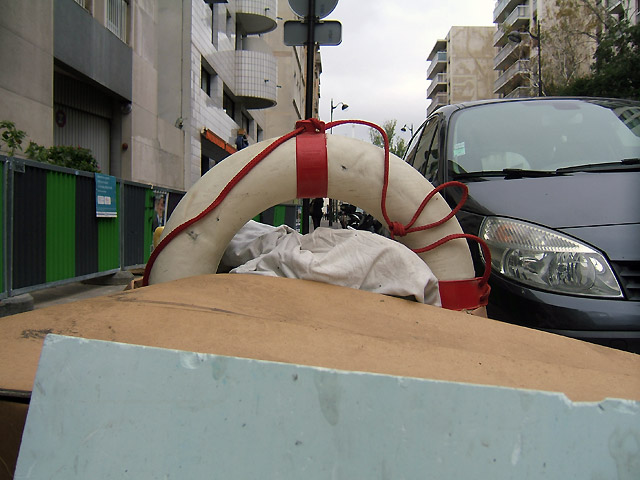 La journée n'a pourtant pas trop mal commencé : ciel serein, pas de pluie. J'en suis presque à me réjouir de mon sort – je suis sorti sans chapeau, ni imperméable, ni parapluie – quand je constate qu'un employé de la Ville a ouvert à fond la vanne du caniveau. Simple constatation. L'eau bouillonne en s'écoulant, voilà tout. Elle bouillonne... elle bouillonne à gros bouillon et le débit du bouillon grossit. Je longe la rue d'un pas assuré et l'eau bouillonne en me suivant, animal de compagnie insaisissable et mouillé. La fermeté de mon pas mollit quand je m'aperçois que la surface entière de la chaussée est recouverte de vaguelettes écumeuses. J'essaie alors de presser le pas mais la marche se fait de plus en plus difficile. Le trottoir, d'ordinaire d'une platitude désespérante de plaine champenoise, prend une pente inhabituelle. Sous l'effort de la montée mon pas ralentit et je regarde derrière moi, par dessus mon épaule. Mal calfaté, pas étanche du tout à l'extrémité que je venais de parcourir, le trottoir prend l'eau. Il coule. Il est déjà pour moitié abîmé. La pente est de plus en plus raide, ma progression de plus en plus difficile. Je ne peux bientôt plus me tenir debout. Je rampe de mon mieux mais l'eau avance plus vite que moi. Mes pieds, mes jambes, mes cuisses, mon ventre, mon dos... mes épaules... mon menton...
Je ne sais pas nager. Et dire qu'ils viennent de jeter les bouées de sauvetage à la poubelle...
Comments
Nobody gave a comment yet.
Be the first to do so!
Categories


Undergrowth typography


Typographical practice


Typo des rues


The picture of the day...


Tales ans short stories


Streets typography


Rural typo


Proverbs


Printing


Post-competition


Places of conviviality


My masters


Internal news


Friends


Fourneau-Fornax


External news


Editorial practice


Competition


Bookish teratology


Book-collecting


Bibliophilie


Art


Alphabet
last posts
Last comments
Archives
October 2023
S
M
T
W
T
F
S
01
02
03
04
05
06
07
08
09
10
11
12
13
14
15
16
17
18
19
20
21
22
23
24
25
26
27
28
29
30
31