Streets typography
<!adequation>Adéquation - by cls
Gagnant ? heu non... plutôt perdant !
C'est sur la nationale 7, à quelques kilomètres de Paris, à l'orée de Villejuif que se trouve ce bistrot. Il est fermé depuis belle lurette et l'état de son toit ainsi que l'affichette qui en cache partiellement le nom nous laissent facilement augurer de son sort : la démolition. On l'a vu fonctionner à plein régime dans nos jeunes années du côté de par ici, et dans nos moins jeune aussi. Alors ? un coup de nostalgie ? C'est ça ? Non. Ou alors si bien caché qu'on ne l'avait même pas remarqué. En revanche, en bon typo que nous sommes, ce que nous avons remarqué c'est l'adéquation entre le nom et la typo.
Le bistrot s'appelle Le Mistral, et la typo itou, fondue en plomb par la fonderie Olive de Marseille. Enfin, si l'on y regarde d'un peu près, on constate que le fabricant d'enseignes a pris quelques libertés avec le dessin original de cette fonte, mais le cœur y est.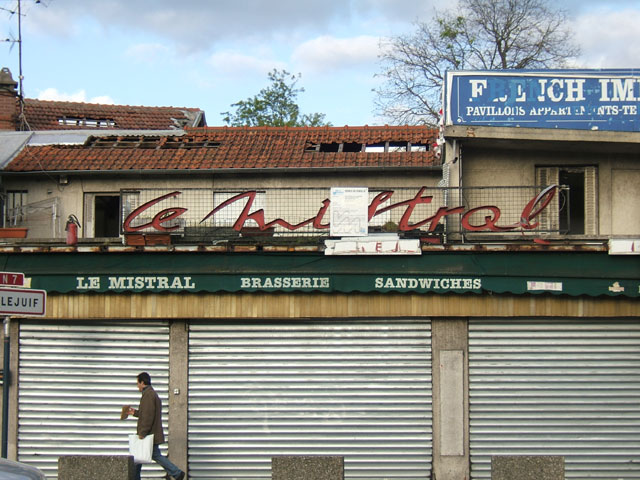 Comments
Nobody gave a comment yet.
Be the first to do so!
Categories


Undergrowth typography


Typographical practice


Typo des rues


The picture of the day...


Tales ans short stories


Streets typography


Rural typo


Proverbs


Printing


Post-competition


Places of conviviality


My masters


Internal news


Friends


Fourneau-Fornax


External news


Editorial practice


Competition


Bookish teratology


Book-collecting


Bibliophilie


Art


Alphabet
last posts
Last comments
Archives
October 2023
S
M
T
W
T
F
S
01
02
03
04
05
06
07
08
09
10
11
12
13
14
15
16
17
18
19
20
21
22
23
24
25
26
27
28
29
30
31